I have a confession, I eat chocolate every day. I mean it, every day. Dark chocolate is my favourite treat and I always have it stashed somewhere in the house, in my backpack or at my clinic.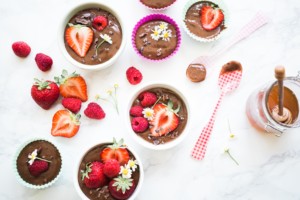 This dessert recipe is a guaranteed crowd-pleaser. I have served it at several gatherings and I always receive rave reviews. I've also doubled the recipe and used it as a pie filling with a raw date/nut crust on special occasions.
Why fertility-boosting?
The combination of healthy fats and antioxidants from avocados and cocoa is great for increasing blood flow to the uterus and improving egg quality. Bonus, this recipe freezes well so you can prep in advance. Allergic to nuts? Replace the cashew butter with sunflower seed butter and almond milk with coconut milk. Vegan diet? Use maple syrup instead of honey and dairy-free chocolate. 
***If you are someone with PCOS who suffers from acne, be aware that chocolate can be a trigger. All chocolate including even dark chocolate and cocoa powder. In certain instances, I will recommend patients do a trial elimination of chocolate (sorry) and reintroduce it in small quantities to see if it triggers their acne.
Ingredients
½ cup dark chocolate (70-85%)

1 tbsp coconut oil 

2 medium ripe avocados

¼ cup cocoa powder

3 tbsp pure maple syrup or honey 

3 tbsp almond or cashew butter 

¼-⅓ cup unsweetened vanilla almond milk, depending on desired thickness

¼ tsp teaspoon pure vanilla extract

Dash of sea salt and cinnamon
Directions
Melt dark chocolate with coconut oil over a double boiler or in the microwave until smooth.

Add the melted chocolate and remaining ingredients into a food processor. 

Process until mixture is very smooth, scraping down the sides of the processor as needed.

Store in an airtight container in the fridge. Serve at room temperature with freshly sliced fruits and berries.